Used across Schools, Colleges and Universities in India
All-In-One Attendance Management System
Real-Time Attendance Dashboard
Get a complete view of all student and staff attendance. Manage, and track daily attendance, as well as lesson attendance.

Send Absenteeism Notifications
Ensure the safety of every student's well-being by sending out SMS and in-app alerts on absences or late arrivals.

Lesson-Specific Attendance
Monitor and track students' attendance in class, and see which subjects students are struggling in.
Manage Last-Minute Timetable Changes
Efficiently manage timetables without any disruptions by re-assigning teachers to cover lessons.

Accurately Track Attendance
Provides complete transparency for admin and parents to ensure that students are eligible to take part in final year exams.
Biometric And Facial Recognition
Integration of advanced biometrics and facial recognition technology allows institutes to effectively manage attendance.
SUMS- More Than Just Attendance Tracking
Admission Management
SUMS brings a robust system enabling you to manage your entire student admission effortlessly in a unified platform.

Student Management
The all-inclusive dynamic system with a bird view of student information and reports.
Staff Management
SUMS admin module allows teachers, admins, and school staff to have all specifics of daily school operations and management.
Library Management
No repetitive tasks or manual labour for maintaining library records. Book records management is made easy and hassle-free with SUMS.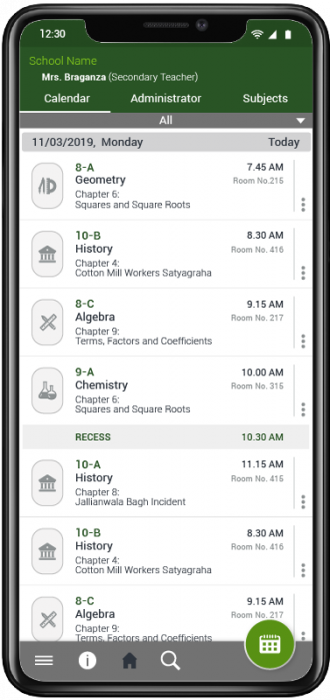 Smarter Attendance
Mark real-time attendance of students, teachers and administrators from one place with our smart attendance management system.
Smarter Homework
Our smart homework manager helps teachers assign homework to students via any device and, simultaneously, helps parents get real-time alerts on their children's performance.
Exam and Result Management
SUMS is designed to manage the entire enrollment and examination process and speed up the result generation in a unified manner, reducing day-to-day hustle for both students and teachers.
Education ERP Solution for Administrators, Teachers, Students, and Parents
Teacher-focused
Student-focused
Parents-focused

Admin-focused
Teacher-focused
Lesson planning: Prepare and update lessons as per your institute's requirements
Seamless monitoring: Easy and highly intuitive platform for measuring student's progress, academic and non-academic
Easy feedback posting portal: One-click feature available to give reviews and feedbacks easily
Timetable planning: Online management of timetables for immediate conflict assessment
Post assignments, comments, homework, and progress
Convenient automated procedure to post assessment marks and progress reports
Self-assessment and performance indicators available for assessing the complex statuses, formulate goals, measuring implementation, etc.
Student-focused
Parents-focused

Admin-focused
Here's What Our Customers Have To Say About Us!
An incredibly useful tool that has helped us manage the attendance of students, teachers, and admin staff seamlessly. We're able to get real-time attendance, and in case of absences make changes to the timetable without any disruptions.
Mrs Madhvi Pandey
Aksharnandan Highschool, Katni, Madhya Pradesh
(Principal)
A time-saver! Fast, efficient, and easy for everyone to use. We started with a basic system of SUMS, now we've integrated the entire ERP solution!
Mr. Akhilesh Mourya
Rajshishu Shiksha Sadan, Prayagraj, Uttar Pradesh
(Principal)
Completely transparent and gives me peace of mind knowing if my child has arrived at school and is attending her lessons. I'm also able to see where she is struggling, and her teachers are giving me feedback and support on areas that she can improve
Sagar Pakhale
Pune
Parent
Yes, SUMS School Attendance Management Software are designed to be user-friendly for teachers. Teachers can quickly record student attendance, view attendance history, and generate reports. We also offer installation support, where our trained team work with you to install and train you on how to use the software for your needs.
Yes, you can integrate attendance management system with Biometric and Face recognition technology.
When you purchase SUMS, you'll receive installation and training from our team of experts. For future training, charges apply.
Yes, SUMS School Attendance Management Software use advanced security measures such as encryption, secure login credentials, and data backups to protect sensitive attendance information.
We have a team of dedicated customer services, and customer on-boarding who are always willing to help. If you have any queries, please contact us on +919029401855, or via email: support@sumsapplication.com
Our lines are open Monday – Friday between 9am-7pm.
Here are reasons why School Management Solutions are a must!
To have a demo of the product, simply fill in the information below and a member from our team will be in touch.