Used across Schools, Colleges and Universities in India
Seamless School Management
One comprehensive solution that manages all your school operations.
Real Time Collection Dashboard
Get a complete view of all payments from one place. Manage, and track every payment due, received and outstanding.

Send Reminder Notifications
Automatically send reminders for outstanding school fees via Notifications and SMS.

Generate Invoices and Receipts
Create invoices and receipts for parents, suppliers and others.
Collect Fees Online
Allow parents to make payments online instantly from anywhere, and anytime

Manage Student Specific Fees
Generate specific fee invoices based on individual students, and or their classes.
Integrate with Tally ERP
Connects with existing Tally ERP accounts to keep all accounting data in one centralised area.
Why Sums : The Ideal School Manager
Admission Management
SUMS brings a robust system enabling you to manage your entire student admission effortlessly in a unified platform.

Student Management
The all-inclusive dynamic system with a bird view of student information and reports.
Staff Management
SUMS admin module allows teachers, admins, and school staff to have all specifics of daily school operations and management.
Library Management
No repetitive tasks or manual labour for maintaining library records. Book records management is made easy and hassle-free with SUMS.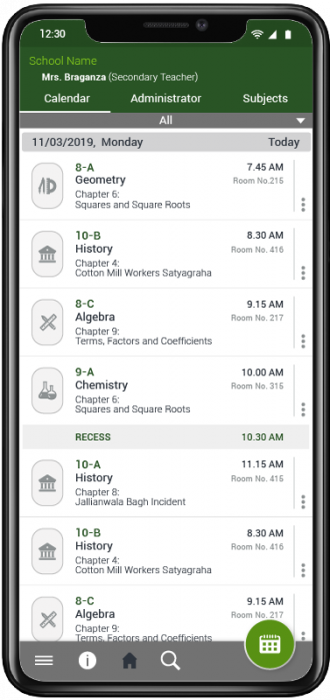 Smarter Attendance
Mark real-time attendance of students, teachers and administrators from one place with our smart attendance management system.
Smarter Homework
Our smart homework manager helps teachers assign homework to students via any device and, simultaneously, helps parents get real-time alerts on their children's performance.
Exam and Result Management
SUMS is designed to manage the entire enrollment and examination process and speed up the result generation in a unified manner, reducing day-to-day hustle for both students and teachers.
Education ERP Solution for Administrators, Teachers, Students and Parents
Teacher-focused
Student-focused
Parents-focused

Admin-focused
Teacher-focused
Lesson planning: Prepare and update lessons as per your institute's requirements
Seamless monitoring: Easy and highly intuitive platform for measuring student's progress, academic and non-academic
Easy feedback posting portal: One-click feature available to give reviews and feedbacks easily
Timetable planning: Online management of timetables for immediate conflict assessment
Post assignments, comments, homework, and progress
Convenient automated procedure to post assessment marks and progress reports
Self-assessment and performance indicators available for assessing the complex statuses, formulate goals, measuring implementation, etc.
Student-focused
Parents-focused

Admin-focused
We have been using SUMS since 2021, and it has helped us throughout the pandemic keep a track and efficiently manage our fees and other payment processes. Since the pandemic, the software has given the parents of our students the flexibility to make payments online and for us to keep a track of any outstanding fees. What's more, the solution has allowed us to continue to teach our students online.
Kuldeep Pandey
Chairman – Aksharnandan School
We had a real problem with the way we managed our finances, especially when it came to collecting fees. Our team had been searching for a solution that would automate a lot of our processes – that's when we discovered SUMS. Since using SUMS, we've been able to provide parents the convenience to make payments online, keep a track of payments anytime from anywhere. The team have also been very supportive in helping us integrate the system across our school.
Akhilesh Mourya
Principal – Rajshishu School
Yes, Sums Fee Management can generate receipts and invoices that can be printed and sent to parents through the App.
Yes, SUMS School Fee Management Systems use advanced security measures such as encryption, secure login credentials, Secure payment gateway and data backups to protect sensitive fee and payment information.
When you purchase SUMS, you'll receive installation and training from our team of experts. For future training, charges apply.
Yes, most School Fee Management Systems are designed to be user-friendly for both school administrators and parents/guardians. Parents/guardians can easily access and manage their child's fee information, view payment history, and make payments online. We offer installation support, where our trained team work with you to install and train you on how to use the software for your needs
Our customer service team are available to help you Monday – Friday between 9am -7pm. Contact us on: +91 90294 01855.
Our lines are open Monday – Friday between 9am-7pm.
To have a demo of the product, simply fill in the information below and a member from our team will be in touch.